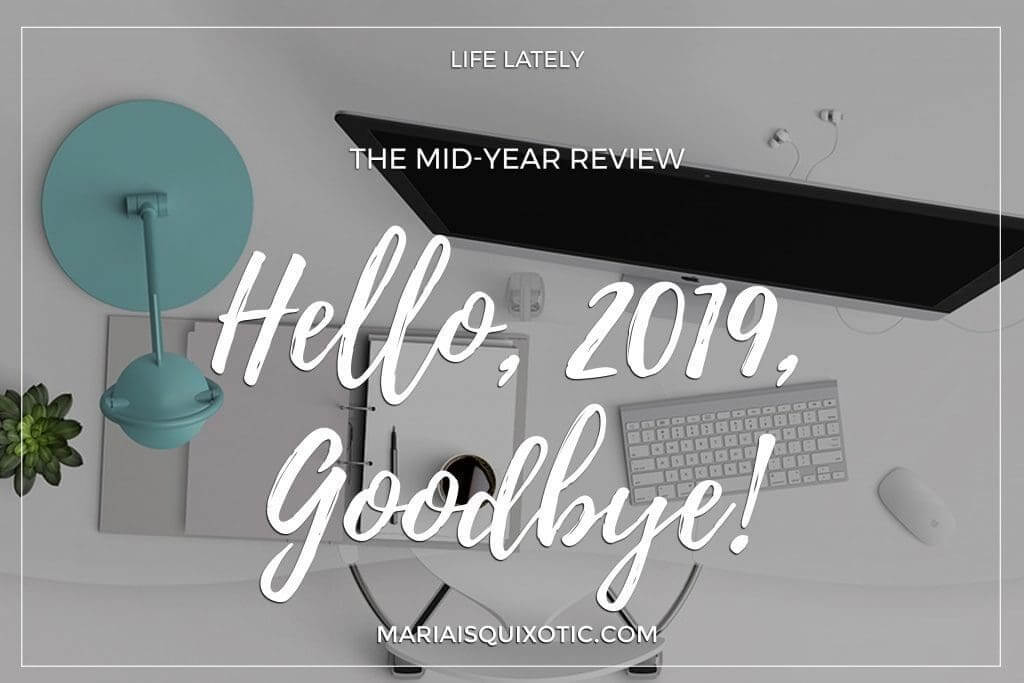 With July almost coming to an end, each one of us reflects and ponders on how we did during the first half of the year. At one point, we just said hello, 2019, goodbye is coming up next! Are you preparing to show your best during the last half of the year?
Did you say hello, 2019, goodbye?
Some of you will notice how I played with the words on the title. I lifted it from an upcoming Filipino movie starring celebrities from rival networks. The two celebrities come from big love teams that existed for so many years. Surely, their fans feel a surge of different emotions. At one point, they might feel the love team will fade as new teams emerge. However, I see new pairings as a chance to test yourself out there. Well, for celebrities that is.
In other news, just as I think that 2019 went well, a lot of plot twists happened that affected so many things. But, how about you? Are you ready for 2020 or still figuring out 2019?
Now, let me share a recap or review on how the first half of the year went for me. Also, some insights that I share here may or may not apply to you. Don't hate it because it's true. So, here goes!
January: Dakila arrived
Dakila, a miniature bull terrier, graces my flat when he first arrived in the metro. Frankly, I did not expect to find myself a pet to take care of here in Manila. Before I used to take care of Maika (Labrador mix) but she needed to fly home to Legazpi because my cousin gave birth. Her husband did not want the child to acquire illness that may be triggered by fur. However, time's changed and finally living in a more permanent place helped.
When he arrived, he was almost two (2) years old. Of course, most of you wonder how does he pee or poop or even eat inside a condo unit in Metro Manila. I mean, right? Well, I guess my patience extended itself and we taught him to pee on pee pads (like an expanded version of a diaper) by Pupaholic PH. Training presents you with different challenges. It tests your patience, the number one factor! But the most important factor with training an adult dog, treats and rewards. Try also conditioning such as what Pavlov used to do. Do research on that.
I guess that's it for my January segment. If you want to know more about how Dakila, I'll be writing a different post about him or even series of posts! I'll be skipping February since there's nothing notable about it that I need to mention here.
March: 8th anniversary
Yup, you read that right. This year, we celebrated our 8th anniversary through firing, eating, and watching a film. Since I work at night, I took a day off since our anniversary fell on a Tuesday. Quite frankly, I want to celebrate events on the day itself and not truly much of a fan of advance or belated celebrations. The reason for that, I still don't know.
We went to Armscor at Makati Cinema Square where we experienced the first time to shoot pistols. Honestly, we both enjoyed the experience and most of my shots were headshots. I purposely aimed for the head area and got some nice shots. Just a random fact, we were supposed to do the firing on our 7th anniversary however, we didn't save enough and schedules did not meet. So, our firing date was two (2) years in the making, actually! Just a throwback, we did archery on our 6th anniversary too!
Again, cheers for another first for both of us.
April: 26th birthday
Just a few more months until hello 2019 goodbye. Onto the 4th month of the year goes my birth month. I celebrated my 26th back home in Legazpi with close friends and family. Sadly, Sam wasn't able to fly to Albay for my birthday since it was a weekday and he needs to work. We ate out when I flew back.
The menu for my birthday dinner only included the following:
Pancit Bato – a kind of pancit that does not have sauce, it's dry but super tasty!
Bellychon – Celine actually gave this as a gift to me and I really appreciate it!
Rice puto – pandan flavor
Homemade samgyupsal made by my mother
Rice – why not?
We just played UNO through the night, exchanged some random stories and I even went into an impromptu Q & A session with the partners of my friends. I caught them off-guard, of course!
However, some good things come to an end and quite frankly, my birthday was bittersweet. Thing is, on the eve about my birthday I found out about some hasty decisions at work that will result in some ugly events. One of those prompted me to look for another work. The other, learning my piano teacher and mentor since I was 6 years old passed away on my birthday. Hence, I cannot really say if I'm totally happy nor sad.
May the 4th be with you
Since I went home last April for the holy week and my birthday, I went home again for the midterm election in our country. My registration still is in Legazpi and it's always a pleasure to go home for special events like this. You see, for me, voting presents something very vital as it impacts the country. I rooted for the opposition however, majority of the votes went to plunderers and candidates who are quite inept for the position. Honestly, up to date, my heart still mourns for the results and we need to suffer three (3) more agonizing years with the current administration. The current administration turned everything into shit by making the wrong decisions that make our lives worse as the seconds go by.
Anyway, I avoid talking about politics here because everyone always says something that comes offensive to another. Let's just leave it at that.
Bittersweet June: The Real Hello 2019 Goodbye
Here comes the real MVP. June marks that half a year passed by and all the worries about progress flood your mind. How did you go? What accomplishments did you make for the past months? Where did you go? When do you plan on doing certain things?
Remember when I mentioned that April went bittersweet? Now the second part of the story from that month comes to an end this month. I found the next work that surely gave me a wonderful experience. from a virtual environment that gave stress and a toxic work politics, I found a more calm and pro-employee environment. Sometimes, it takes a number of failed trials before you find the right one for you.
June flew by and gave me quite the roller coaster of emotions. Everything that came across my path tested me – from mind, body, and soul. However, look, I made to August (as of writing). June made me realize a lot of things. Some befriend you for the sake of what you do. Others befriend you for the sake of being a colleague. Yet, some befriend you through thick and thin. That even if you worked together for a short stint, you still consult them about other things too.
July the 2nd half of the year: Hello 2019 Goodbye Part II
July signifies my mom's birth month and I made it to a point that I went home for her birthday. I flew in days before just in time before her birthday. Working from home (literally my home for half of my life) gave me the lazy bug. Surviving that bug was tough and quite challenging. The comfort of the bed glued me for days and getting up really was hard. Anyway, we celebrated by dining in Classic Savory at SM Legazpi. Just like my birthday, an intimate celebration with the family and Pat who was my genie!
July gave me a challenge especially on scheduling and balancing everything that I do. From my creative journey to my work, and to everything else. I didn't think July would stick long enough to witness a lot from me. But here came August.
Hello, 2019 goodbye meant a lot of things for me. A lot of the series that I watch ended this year which really stings since I love watching series more than watching movies. To name a few, The Big Bang Theory (TBBT), Jane the Virgin, iZombie. Just a random note about iZombie, their finale felt quite rushed that it left some plotholes. Its last season only has 13 episodes though that's their normal number of episodes. On the other hand, the finale for Jane the Virgin was really good and it really gave me tears!
Hello August!
Now, it's the 5th day of August and I failed to finish writing this last month due to some circumstances. For a creative, there are really those times that you feel unproductive and you lack the energy to do things due to tiring work.
Also, I miss going to blogging events and getting those invites. So if anyone sees this, hope you can invite me to a weekend event!
---