Welcome to Maria's Portfolio! This is your one-stop destination to explore the diverse and creative works of Maria Redillas. Here, you'll find a curated collection of Maria's most impressive projects, showcasing her unique talent in content writing and social media content creation.
Dive in and discover why Maria's Portfolio stands out in the digital landscape.
Maria's Content Writing Portfolio
In the realm of content writing, Maria Redillas has carved a niche for herself. Her portfolio is a testament to her ability to craft compelling narratives, informative articles, and engaging web content.

Each piece in this section of Maria's Portfolio is a reflection of her dedication to delivering high-quality content that resonates with readers and achieves the desired objectives.
Maria's Social Media Content Portfolio
Social media is a dynamic and powerful platform, and Maria Redillas knows how to harness its potential. This section of Maria's Portfolio showcases her prowess in creating engaging, share-worthy social media content.

From crafting catchy captions to helping visualize appealing posts, Maria's social media content works are a blend of creativity and strategic thinking, designed to captivate audiences and drive engagement.
Recommendations and Testimonials
You'll find a collection of testimonials and recommendations from clients and colleagues who have worked with Maria Redillas. Their words speak volumes about Maria's professionalism, creativity, and dedication to delivering exceptional results.
Shopify and Klaviyo Email Marketing Specialist
Leyden Du
It was a wonderful experience working with Maria. She was able to accomplish each task on time with excellent quality.

I would love to be able to work with her again in the future.

I highly recommend her services to anyone who needs a freelance content writer.
SEO Specialist
Patrick Viriña
Maria is a creative and passionate writer. She loves what writing and great to work with.
Senior Inbound Marketing Specialist
Marie Cruz
I've worked with Maria to create content-driven marketing funnels that create value for niche audiences all over the world.

Her ability to capture what resonates with specific avatars and her attentiveness to every single UX or conversion point is what sets her up as an SEO content master that I'm confident to recommend for any growth-driven organization.

Her content is delightful to read and gives the tone of a well-learned and empathic subject-matter expert, which not only builds trust, but also nurtures the emotional benefits of your brand.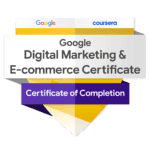 Skills and Expertise
Maria has successfully completed the Google Digital Marketing & E-commerce Professional Certificate.

Course Certificates Completed:
Satisfaction Guaranteed: Develop Customer Loyalty Online
Assess for Success: Marketing Analytics and Measurement
Foundations of Digital Marketing and E-commerce
Think Outside the Inbox: Email Marketing
Make the Sale: Build, Launch, and Manage E-commerce Stores
From Likes to Leads: Interact with Customers Online
Attract and Engage Customers with Digital Marketing
Ready to bring your project to life?
Get in touch with Maria Redillas today!

Whether you need compelling written content, engaging social media posts, or optimizing your content, Maria is ready to help.

Don't hesitate to reach out with any questions or to discuss potential collaborations. Maria's Portfolio is just the beginning – let's create something amazing together!