Coming from a tour around Cebu, you should not miss stopping by its neighboring islands. Just around two hours of ferry ride from Cebu, Bohol is ideally your next destination.
Said to be the land of the descendants of the pintados or the "tattooed ones," this gem of an oval-shaped island province located between Cebu and Leyte is also rich with pristine beaches and is especially famous for the knolls of brown limestone formations so aptly called Chocolate Hills.
So, after enjoying what Cebu can offer, including that Oslob whale shark watching tour package which is a must-try, and still got a day to spare for your vacation, Bohol would be your perfect side trip. Even if you only have a day to spare, it is possible to experience the beauty of Bohol in such a short time.
Where should you go on your one-day tour in Bohol?
Below are some of the significant sights you should include on your must-visit list:
1. Tarsier Viewing in Captivity
To help protect tarsiers and to allow people to see these miniature primates, forest and habitat sanctuaries have been created. Their brain is as big as their large bulging eyes, which lets them spot and catch prey at night. With their elongated limbs and fingers that make jumping from tree to tree easy for them, they are able to catch insects, and are also known to eat birds, snakes, bats and lizards. About 30 minutes would be enough to get a glimpse of the animals and read details about them on stands.
2. Blood Compact Shrine
Also known as the Sandugo Shrine, it is the site for the sculpture created by Boholano National Artist Napoleon Abueva depicting the historic blood compact between Miguel Lopez de Legazpi of Spain and Raja Sikatuna of Bohol. The site is found in Barangay Bool, Tagbilaran City.
3. Billar Mahogany Man-Made Forest
In the border of Loboc and Bilar towns, it is a man-made forest of thousands of densely planted mahogany tress, stretching two kilometers. The big trees are said to be of the same height, the same spread of the branches, the same thickness and the same look of the leaves. There are no other plants among the Mahogany trees, just the brown trunks standing erect, rising from the roots protruding from the earth before exploding into a canopy green above.
4. Baclayon Church
Considered to be one of the oldest in the country, the Baclayon Church or La Purisima Concepcion de la Virgen Maria Parish Church is located in Baclayon, Bohol. Natives who broke the rules of the Roman Catholic Church and the Spaniards where locked up in a dungeon underneath the church.
5. Chocolate Hills
Of course, you would not want to miss this famous landmark of Bohol. Most Cebu and Bohol affordable tour packages and van rentals include this in their itinerary. It's ranked at the topmost of the places you should not miss in the island, albeit you will have to climb 214 steps to get to the viewing deck and get a great view of the over 1,200 cone-shaped hills that turn brown in the summer. No worries, though, as there are rest areas should you find the need to catch your breath.
---
Above are just some of the places you have to see in the island province of Bohol. For more Bohol experiences, tour companies would be willing to work with you to make the most of your vacation.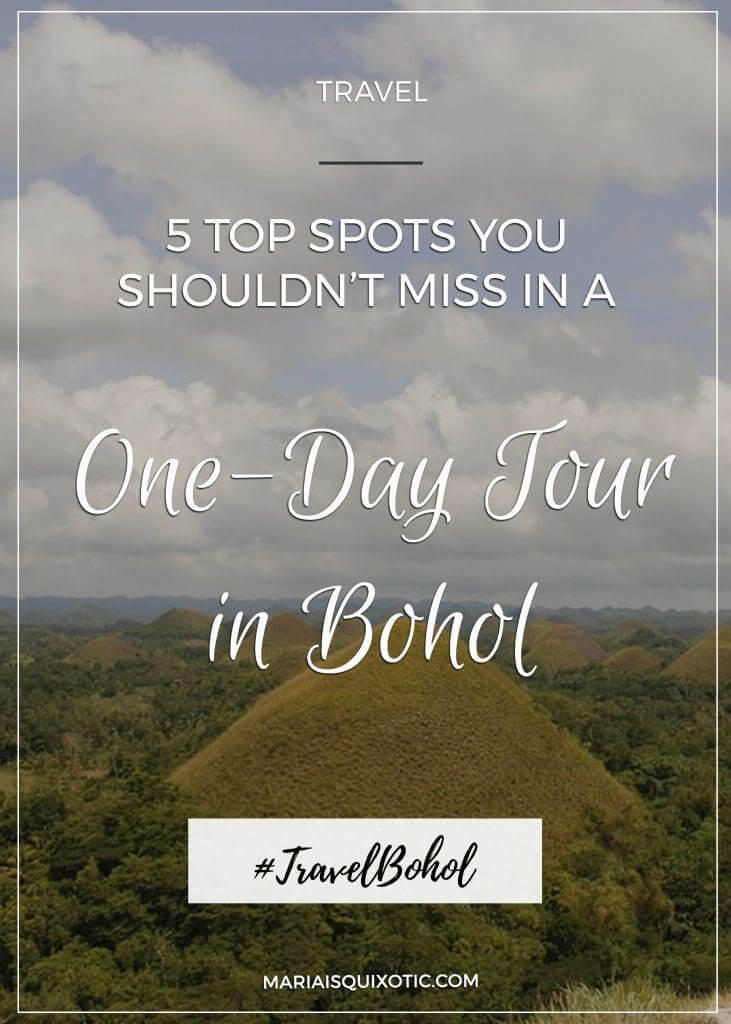 ---