Proposing marriage is a challenge for any man at the best of times, and if you are planning to pop the question while holidaying with your partner, you have a wonderful opportunity to take advantage of the holiday mood. Indeed, proposing while on holiday is a very popular way to ask the ultimate question, and with that in mind, here are a few proposal ideas that are guaranteed to get the right response.
What holiday proposal ideas will melt your partner's heart?
Captivate their hearts by trying out these creative holiday proposal ideas this year!
Hot air balloon proposal
This can be a double surprise, as you can arrange the hot air balloon trip without her knowledge, and of course, there's an even bigger surprise waiting for her once you are both up in the clouds! Again, you will need the organiser's help with the champagne, but once you are over a glorious beach setting, or floating over rolling hills, you can spring the ultimate surprise.
Beach proposal
Prior to departure, check out the amazing collection of bespoke engagement rings in Brisbane from an online jeweller, and with the ring safely in your possession, you can set about planning the ultimate beach proposal. You will need a cooler box that contains a bottle of champagne and two glasses (which needs to be concealed nearby), then as you walk along the beach together, you happen to notice a bottle with a message inside.
Pretend to be as curious as she will surely be when you gradually prise out the piece of paper and hand it to her, and with the ring in your pocket, you go down on one knee as she reads the "Will you marry me?" message!
Treasure hunt proposal
This one takes a little careful planning, and a deserted beach is an ideal venue, as you invite her to go hunting for treasure, making sure that she finds the small ring box that you carefully hid. It is a good idea to also hide a cooler box, filled with champagne and glasses to celebrate the occasion.
You could write WILL YOU MARRY ME? In the sand near the hidden ring, which is a novel way to introduce your proposal.
Candlelit dinner proposal
Of course, she won't suspect a thing if you invite her to a candlelit dinner at the hotel, after all, you are on holiday, and by slipping a small card inside the menu with her name on the outside, she will no doubt find it. Upon opening the card, you can get down on one knee.
If you really want to impress her, have a violinist nearby to serenade you at the right moment. Easy to arrange and guaranteed to get the right response! You can find articles online that give a few more novel holiday proposal ideas.
Outward flight proposal
This is very easy to arrange, and the best time to do it is just after the stewardess has served you both a drink. You could ask the air hostess to help, by handing her a note at the same time as serving the drinks, and with a captive audience, the flight is bound to take on a celebratory note!
---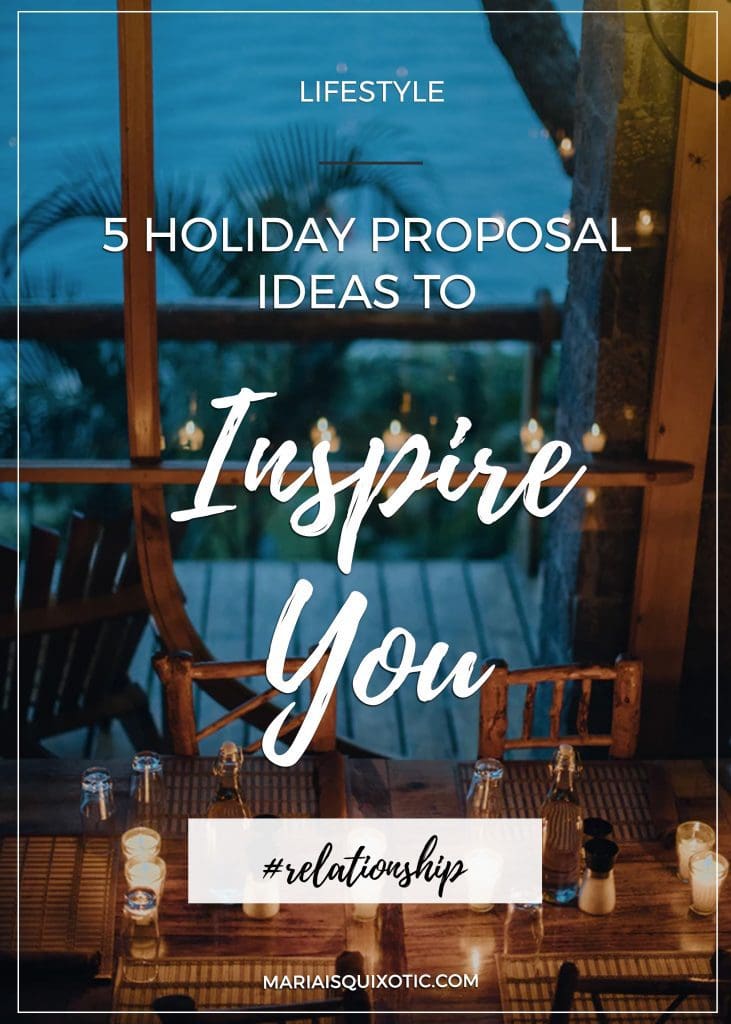 There are so many opportunities to propose when holidaying, all it takes is a little imagination and some careful planning, and it will be a holiday that you will both remember forever!