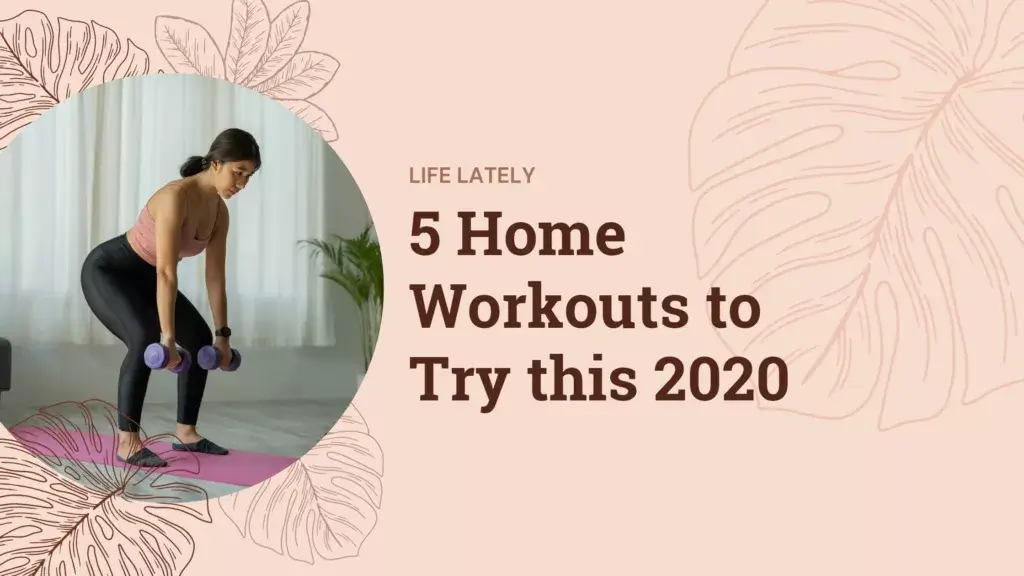 The COVID-19 pandemic that has made us all stay at home is a good defense against contracting the virus. However, an even stronger defense is staying at home plus taking care of your health and improving your immune system. Read on to discover some effective workouts to try at home.
During the last day of 2019 as we all waited for the clock to strike 12:00 A.M to welcome the new year, we envisioned the new plans. All of those included career plans, travels, and whatsoever that made us look forward to new possibilities that lie ahead in our future. However, life reminds us through the COVID-19 pandemic that it's unpredictable and it can fuck us up (and our plans) anytime. We wanted a jump-start in 2020 but it turned out to be a horrible jump-scare. Yikes!
The present
Currently, we are all living within the chaos of the COVID-19 pandemic and its effects on our normal lives. Suddenly, we can't go outdoors anymore and physical contact with other people is a risk because the COVID-19 virus is just out there and waiting for its next victim. Seems like we're living in a zombie movie now, right?
We have to stay at home to fight off the virus, and most of us are fighting not only that, but also the boredom, unproductivity, insecurity, and other blues triggered by being isolated indoors for a long time now. Our mental and physical health are at the most vulnerable state right now due to high levels of stress.
How to be productive at home?
What can we do about it? Exercise!
Regular exercising or working out greatly reduces stress and can boost the immune system. Moreover, for those who don't have anything to do in their quarantine days, maybe exercising will keep you busy? You'll be productive and even reward yourself with a better you.
But it's also okay to be unproductive too. Do whatever makes you happy, we're all different. Think about it, when this pandemic ends and we hope it will very soon, you'll come out geared up with a fitter body that not only looks good but will also help you fight off any more of those unwanted viruses like the COVID-19.
So, gyms are closed and we all have to stay at home. Don't fret! Working out doesn't need special gym machineries or a coach to yell at you as motivation -these are all just like "additional features" you avail. You can definitely workout without all those.
Remember, workouts can be anything as long as it keeps you physically moving and sweating buckets!
5 workouts to try at home this COVID-19 Pandemic
Stretching workouts
Your body feels sore and tired lately? Maybe because it hasn't gotten much of a stretch these days. The stay at home lifestyle we've all had for months now has made the muscles and ligaments in our body go dormant.
We've succumbed to staying still throughout the day on our phones, in front of our computers, and game consoles. Hardly do all the other parts of our body get moving nowadays. It's usually just our hands and fingers getting a workout (like when scrolling down on our screens).
Try doing stretches when you've just woke up or at any time of the day when you feel like you haven't moved much. Your body will feel so much better, that's a promise.
Chloe Ting workouts
For those who want to come out of this quarantine with a rocking fit body that no one ever expected, Chloe Ting, a fitness youtube personality is a God-sent blessing. She has free youtube workouts videos posted and a program guide to follow on her website. The best part? They're perfect as stay at home workouts because you won't need any equipment.
The most popular one is the "Chloe Ting 2 Week Shred Program". It's a whole body workout that's going to leave you sweating like a pig and it'll be all worth it.
Many people who tried it got impressive weight loss and fitter body results! Don't believe us? Check it out on YouTube and watch the unbelievable before and after videos of those who tried it out.
Dance workouts
Let's be honest here, there are some of us that just don't have the will to workout. To some, the thought of purposely tiring onself seems like a deadly torture. Good thing there's another option to effectively get the body moving without feeling forced, and that's dancing!
Dancing is a fun way to sweat out while grooving to your favorite band or music artist. Most of us aren't pro-dancers which is why a daily good 'ol dance workout while we're in quarantine is perfect. We freely dance like crazy within the comforts of our homes, no judgment.
For those who want to take it up a notch and get even more of a workout from dancing, try to learn the dance choreography of a song you like.
Youtube has a ton of dance tutorials in mirrored version, by the way. A personal note: K-pop dance choreographies really make a great whole body exercise
Tiktok workouts
The COVID-19 pandemic has had us thinking of many new ways to entertain ourselves and keep us busy with our stay at home state. Tiktok, the phone application is the go-to for those who want to discover something new from other people or you yourself can share what you know.
In Tiktok, you learn new recipes, new facts, and even new tips on just about anything from academics to flirting and etc. But, what's really dominating the Tiktok world are the many dance choreographies that may look cute and simple but are actually complicated.
Sure, it's just a 30 second or a minute long Tiktok dance challenge but don't be fooled! Usually, you'll have to practice for an hour or longer just to perfect it!
Trust me, this is coming from my personal experience. It can tire you down, and that's just the dance challenges!
Tiktok also has real workout challenges posted up that will have your body burning all those fats and unhealthiness away.
Here are some of the Tiktok dance challenges that I've tried out:
Greedy x Treasure mashup dance
Say So – Doja Cat dance
Holla Back Girl x Yonce dance
Walk/jog workout
Even the simplest thing such as walking and jogging around is already a great effective workout. If you do it consistently and in long periods, it boosts your fitness. However, since the COVID-19 pandemic made us all stay at home, walk/jog workouts may vary.
Some may have big yards or a lot to walk and jog around in their homes and some can even safely go around their neighbourhood (with social distancing and masks on of course), but unfortunately, there are also those who do not have these perks.
Don't worry, if you are part of the latter, we have suggestions to make your walk/jog workout more effective even within a tight space in your house:
How to walk/jog indoors?
Do it in one spot – Yup, you read that right! You don't necessarily need to go a distance. Walking and jogging while staying in one place is just the same as doing it while moving around. The important thing is you're moving your legs, sweating, and making your heart pump.
Use your stairs – walking or jogging using your stairs helps your leg muscles to contract more. This will leverage the amount of energy you're using and will definitely help you to burn more calories.
Jog with jump ropes -got some jump ropes lying around your house (maybe from your kid or your little siblings? Use it to your advantage. When you jog with jump ropes, you are sweating double and burning more fats because you consume more energy when jumping.
Workouts to try at home: are you ready?
The COVID-19 pandemic may have affected our normal lives in different ways and it has been a bummer for all of us ever since. However, we shouldn't let it beat us all up as we stay at home!
Let's learn to adapt, find creative ways to overcome it; like working out to become healthier or learning something new like cooking, etc. Even when we are stripped off of our usual normal lifestyle, let's all be reminded to be grateful nonetheless because we are still living.
Stay safe and do what makes you happy to fight off the stay at home blues!
P.S. Remember to wash your hands with soap and water for at least 20 seconds!