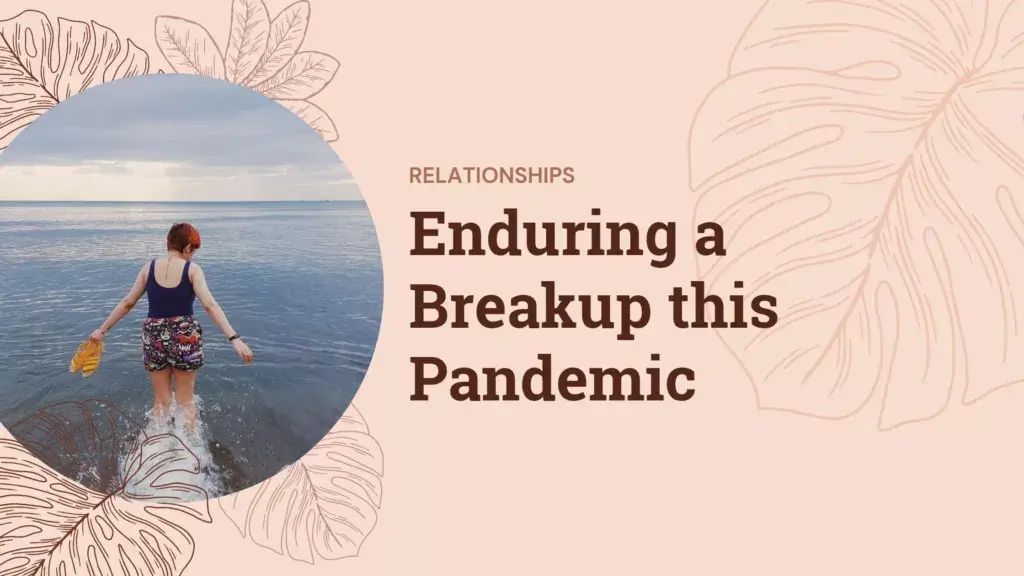 Breakups are normal and it's part of relationships. As the world continues to move through this pandemic, different people endured a lot of things. Some of those include, friendships getting broken or even couples divorcing. So, through my personal experience, I share with you ways on how to cope with this pandemic while enduring a breakup.
Truth bomb: the pandemic took us by storm
Everyone's lives turned sour when the COVID19 pandemic exploded. Countries closed their borders and strongly advised their people to stay indoors, practice safety health protocols, and even the economy froze. This atrocity affected so many lives and even took a lot more than that. People lost loved ones without even getting the chance to say goodbye or even comfort their loved ones while battling this invisible disease.
However, what's more painful about this pandemic is a lot of us endured heart-wrenching heartaches that left us frozen in limbo. It paralyzed us and crippled our daily lives. No one knows when will this actually end especially with the Omicron variant spreading in other parts of the globe.
Nonetheless, human as we are, we continue to survive and aspire to thrive despite the hardships that we face every single day.
Disclaimer: This blog post is dedicated to people who endured heartbreaks during this pandemic. I, myself, had my heart broken too earlier this year, and coping is really tough. I aspire to share this with people who are currently struggling and still reaching for the light at the end of the darkness.
How to cope this pandemic while enduring a breakup?
This question really haunts me as I really cannot put into words how much I've endured this year. My mom had some health issues (non-COVID, thank God!) and I, too, am seeing a therapist for my mental health. For others who are new here, I've been clinically diagnosed with Adjustment Disorder with depressive and anxious moods.
So, my story and source of inspiration for this blog post is my personal experience. I've been slowly moving forward from a breakup with my former partner for almost a decade. Honestly, the breakup devastated me in so many ways. I hit bedrock, sleep was evading me, and I busied myself with work so I could not deal with it. Truth be told, my body took a toll. It gave up. I got burnt out from escaping. Eventually, I slowed down from binge-watching Kdramas that made me tear up almost every single night so I could sleep.
Slowly, my therapist gave me anti-anxiety or anti-psychotic meds to help me sleep as I battle insomnia. My meds allowed me to sleep for more than 12 hours a day and it helped also. However, it prevented me from waking up early and doing some of my tasks properly. My body felt so relaxed that I wanted to stay in bed even after having around 16 hours of sleep. In case you are wondering, it's a prescription medicine called Quetiapine. But, in this blog post, I'll be focusing on my non-medical ways of coping.
Now, let's proceed with the first one.
1. Reunite with your old interests
This seems farfetched especially if you're dealing with major depression. The things you used to love don't seem to give any kind of spark at all. That applies to me too. I lost my liking for calligraphy, I did not touch my pens nor my art journals. It stayed hidden in my shelf and pen capsule for so long that some of it dried up already.
However, soon enough, I picked up one book from myself and I started re-reading some of my favorite books. Slowly, I told myself I need to go back to my ebook library too and see how are they doing. Lo and behold, I invested in a Kindle which helped me read faster and even get in touch with my ebooks with ease.
Through my library, I found gems that helped me feel comfortable and at peace while dealing with my heartache. The words that the authors wrote gave me some solace. Words that you think may not pierce your mind, heart, and soul, will hit you harder when you read them again after some time.
I read more self-help books, poems, and even short essays about people who have been experiencing grief and loss in their own way. One way or another, it ignited my love of writing. I began composing my own poems too, I just post them on Twitter. Little did I know that these books brought a different perspective in life. I took it as a sign to continue writing not just for myself but for others who are facing the same things as I do.
Slowly, I read more and more books. Through Goodreads, I even put on a goal to read at least 25 books for the year and just like that, I am now on my 28th book! Books may be boring to some yet for people like me, it's comforting. Authors like Yung Pueblo, Lang Leav, and Courtney Peppernell wrote so many inspiring and heart-melting works that just bring a different level of comfort.
Therefore, take a step back. Talk to yourself, ask yourself what is that one activity or thing that you've been looking forward to doing but cannot. Then, read about it. Slowly challenge yourself to try it and see what good it will bring you.
Remember that whatever you feel is valid. No one should ever invalidate how you feel.
2. Talk to your support system or have at least one person that you really trust and open up to them
One of the ways on how to cope this pandemic while enduring a breakup would be to have a good solid support system. I'm truly grateful for my friends who saw right through it and to those that I opened up to. Some even called me long-distance to see and ask how I've been doing. Frankly, the first half of the year was tough but slowly, it became better.
It's nice to have people listen to you while you cry on the phone or even write sob poems in your journal. Make sure that they never invalidate your grief, your sadness, or whatever that you are feeling. However, when you feel tired of talking, feel free to rest. Give yourself a break too from talking to friends. After all, this is your healing journey. Don't feel bad about not responding to messages, it' okay. I do that too though most of the time, I give disclaimers if I don't feel good or I'm not in a good headspace. Believe me, that helps!
Another thing about having a good support system, they will give you words of comfort. But at the end of the day, it depends on how you navigate through it. Words are words. You control your life and how it will move from there. Don't let other people's stories control you. It's your book, it's your chapter, you are the sole author of it. Sure, they can contribute.
I thank my friends for staying and for acknowledging that I have to go through some phases wherein I won't talk to them for a few days or even weeks. So, I hope you find the same kind of support system as I did.
3. Entertain yourself with games or series
We are no longer strangers to streaming sites. There is a lot to choose from, Netflix, Hulu, Amazon Prime, and more! The shows give us a different sense of comfort. I binge-watched a lot of Kdramas in order to cry everything out or feel some sort of kilig. (Kilig is a Filipino term that could mean lovestruck.)
These days, streaming or binge-watching is one of the go-to activities that we do from the comfort of our beds, rooms, and homes. No one needs to go out. Everyone is safe though our wallets may not be spared from the subscriptions that we may have. 🤣
But, the stories that they tell give us some sort of hope that all bad things will end. Somehow, it will. I believe that everything happens for a reason. If you got heartbroken, it may be because you needed to grow at your own pace and regain that child in you that may have seemed to get lost. It could also mean that your goals and aspirations may not align anymore as they used to. That's okay. We go all through these things to become better versions of ourselves.
Breakups are painful at first but it's up to us on how to improve ourselves. Sooner or later, you'll meet someone who compliments you in one way or another. They will support you in all of your endeavors and give you that confidence boost that you need. Before, it felt like the world ended for me. But now, I look at it as a hurdle that I needed to cross no matter how challenging things may be.
Just remember that:
Takeaway
Things happen for reasons we do not understand just yet. Some take time before it unravels completely and we are left puzzled on how to move forward with the things at hand. Allow yourself to feel different emotions and notice the progress you made so far.
Let yourself cry if you need to, that's okay. Crying is never a sign of weakness, but it's a sign of strength. Recognizing your weaknesses and asking for help is the strongest thing you can do to help yourself. Don't ever think that the heartache you're feeling now will never fade.
It will, it all depends on how you navigate through it.
---