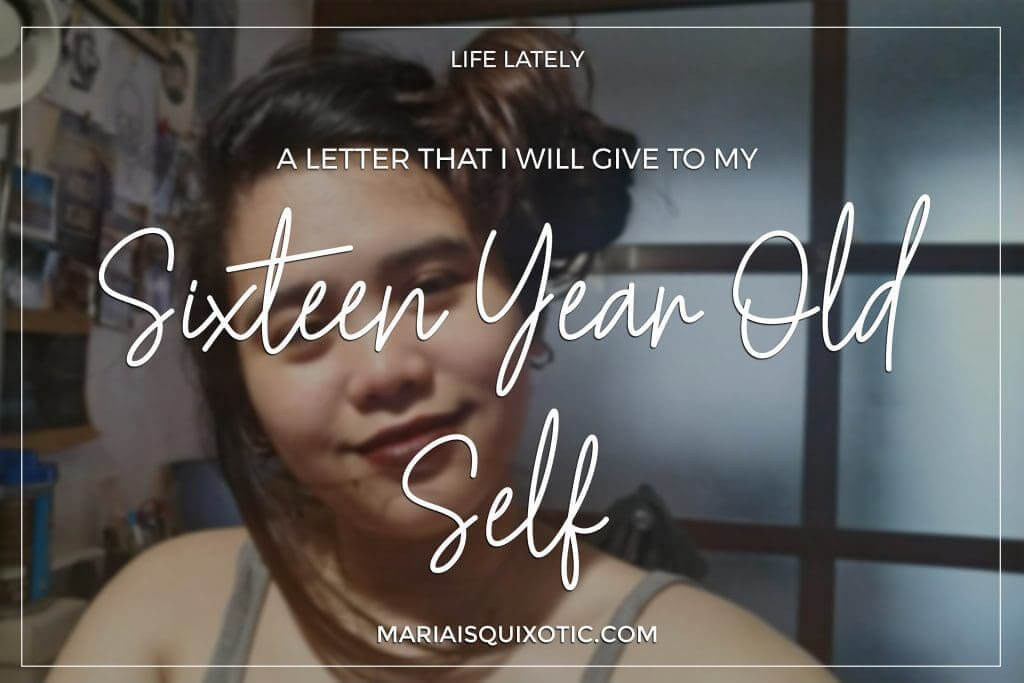 When I started out blogging, I always read letters to their old selves by the bloggers that I follow. Slowly, technology advanced and they shifted from writing to vlogging. Now, 10 years ago, vlogging was still not a thing and blogging was. I always dreamed of so many things back then and slowly achieving the. Fast forward to 10 years, I want to share something with my old self and tell her a lot of things. Lo and behold, I'm writing a letter to my sixteen-year-old self.
Dear Maria, A Letter for My Sixteen Year Old Self
10 years ago, you just graduate high school and gearing up for college. You hear different things about college which will scare and excite you at the same time. But before everything else, you start preparing for your last piano recital before heading to the capital for college. As the school works finished quite early, you focus on your rehearsals. Practicing your piano piece at home for at least four (4) hours per day. It was really tiring but the discipline taught you a lot of things. You may not know it yet but the discipline you got from the piano lessons transformed you into a better person. Things you learned from the rehearsals and the lessons themselves, you apply it to your further studies and eventually with your work too.
You celebrated your birthday with your friends in a resort. The day was spent well through exchanging stories about your entire high school memories and your aspirations about college. It scares you for the fact that you'll be separated from the familiar people that you have been with. You drink through it but still not drunk enough or else, you'll be dead when you get home. Weeks after that, you travel to Metro Manila bringing almost everything with you. This is the first time that you'll be literally away from home, on your own, without anyone but yourself.
Fast forward to the start of your college life
Settling down in the dormitory was made easy by your cousins around. They always made you feel home and secured that they will always be there when you need them. It made you comfortable as you would spend a few minutes in the restroom crying because you felt homesick. That's normal. Anyone endures that, you'll get used to it too. Watch out!
Once you meet your classmates or blockmates, you'll feel a different sense of the vibe. As you meet a lot of people, you learn how to connect and socialize depending on the environment. Some dislike your bluntness and honesty and that will not decrease your eccentric personality. In fact, it amplifies the unique and strong personality that strongarms you especially if you undergo different challenges. People will say different things about you and most of the time, you simply don't give a fuck to them. However, some of those words pierce through your strong facade and hurt you like a baby getting wounded. You think that your strong facade is enough but you will still learn a lot.
You think that you know how to decipher and read people but you fail not just once, but for a number of times. Seemingly, you look at the best of people and tend to ignore the worst traits of a person. Others tell you that it's good but deep down, you do what you do.
The dorm life
As you go on with your college life, you spend two (2) years of it living in a dormitory where you will meet two (2) of your closest friends. Just a trivia, they stay as your friend even a decade after! How cool is that? 😉
Living the dorm life teaches you a lot of things. Here you learn how to mingle with different people from different walks of life. You meet people from all over the country. Truth be told, this is the first time that you'll be living with other people. It will overwhelm you at first. In addition to that, it somehow will amplify your homesickness since you do not feel comfortable at first sharing things with people you just met. That's normal. You'll learn how to communicate with them soon enough.
What dorm life?
You'll have a roommate at first, then shift into a room of your own. Mom provided you with everything that you need even though you did not ask any of it. She'll buy you a fridge where you'll store your food, water, and even other treats such as chocolate. Your favorite appliance would be the electric kettle since you love taking a hot shower or hot bath. The dorm does not have a built-in heater so you find ways (just like BDO) so you achieve that warm feeling.
Sadly, as you gain new things, you'll lose some. A thief in the dorm lurks around and steals one of your phones. The phone that got stolen was a Nokia N95 which is one of your favorite phones. It will hurt you since that was a gift from your mom. Soon enough, you'll begin thinking of the idea of blogging about writing a letter for yourself just years after. Right now, this is what I'm doing. I'm writing a letter for my sixteen year old self.
But remember, you'll enjoy your dorm life more than you think!
Before I forget, you'll be admitted to the hospital for the very first time in your life. It's dengue and you're puzzled about how you got it. Nevertheless, you came back strong! 💪🏽
Post-dengue
About your dengue case, you stay in the hospital for around three (3) days and you'll meet remarkable nurses and doctors who will treat you nicely. You worry about how to catch up with the things you missed at school. But good thing though, you hang around with kind-hearted college friends. You catch up with school work and move forward to finishing strong!
Slowly, you prepare yourself for the next term. You think of different things. Sometimes, it puzzles you on how you continue on with your college adventure. However, just continue with what you are doing and you realize that you are following your heart.
Now you wonder a number of what if's but you defeat thoughts. In the end, you care more about what you face every single day. You slowly plan on your life and check your aspirations in life. In addition to that, you make sure that you enjoy life and still attend school. But that change up until you turn 17. Things shift and seem more challenging to the naked eye.
---
Why write a letter for my sixteen year old self?
Fast forward to 10 years later, I thought of writing a letter for my sixteen year old self. I sit here in front of my workspace thinking of what else to put that help me reminisce and impart something to my readers or whoever sees this blog post. Honestly, I find it fun to look back to the events that transpired 10 years ago. Believe me some hurt yet some turned out to be fun and enjoyable.
This blog post shows some of the vulnerable parts of myself that some do not know. It does not signify that you're weak or that once you stumble down, you find it hard to stand up again. Make sure to eradicate that thought. Everyone going through some difficult humps in their life, they find a light to guide them through. Although some take time they still make it through. Let this light your way or your path toward your goals. I do wish that even if you face different challenges through the years, you still choose to remember the good ones. The bad ones teach us how to survive the next one or just plainly how to become stronger.
As I continue writing this letter for my sixteen year old self, I am streaming and watching NCIS. I don't know about you but this crime series teaches you a lot. From learning how to observe and be keen with your surroundings, to valuing your colleagues and treating them like family. Not everyone gets the chance and courage to share their own stories but here I am, using this platform with the hopes of inspiring people out there.
---
So if you relate to this on various levels let me know through the comments!