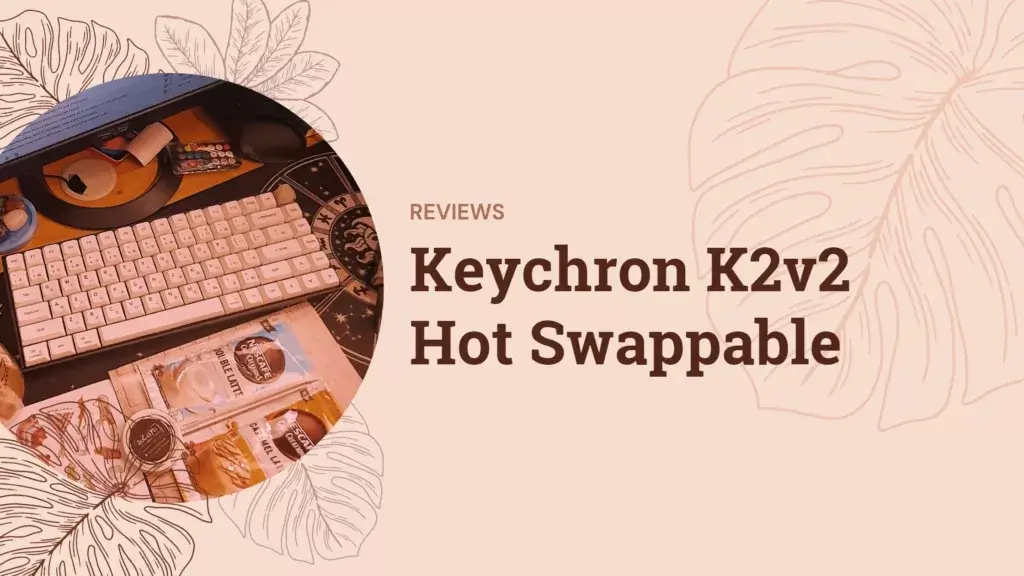 One thing about working is that you like to hear something when you type, especially if the office or your home office feels a little too quiet. Right? In my case, I really missed the clanking sound while doing that or while playing, so I saved up for a mechanical keyboard myself. Last year, I got myself a Keychron K2 Hot Swappable. How about you? Thinking of getting one for yourself too?
Here are my most honest thoughts about it.
What's with the Keychron K2 Hot Swappable?
Last year, I was still using multiple devices, both for work and personal stuff. My old MacBook named Macy which I used for personal stuff and other freelancing gigs. On the other hand, I had a work laptop which I solely use for work. However, things got more challenging since both operate differently. One had a macOS, obviously. The other one runs on Windows.
To avoid the hassle of transferring and reconnecting peripherals from one device to another, I got myself a multi-device mouse and keyboard. Both gave me more productivity, as I would say it. It helped me work faster as I get to copy and paste content from my MacBook to the Windows laptop and vice versa. Honestly, it was one of the best things about owning multi-device peripherals. It reduces the hassle of moving and transferring your stuff from one place to another.
Some specs:
75% layout
White backlight
Hot swappable
Red switches (currently using brown switches)
84 keys
Works with Mac, Windows, and Android
Connects to 3 devices
4000 mAh battery
USB Type C cable/charger
Inclined design, has foldable stands which helps you type easier when writing down a novel or even drafting your blog posts
Now, if you are curious as to where I got my devices, I'll drop the links below, so you could get yours as well!
Let's get down to business. Allow me to share the three things I like about this keyboard.
3 Things I like about Keychron K2 Hot Swappable
The photo shows the keyboard you'll get when you order. That's the original keycaps that come along with the package. In my honest opinion, my mind itched when I saw how the colors of the keycaps look. It's good, but I lean towards a minimalistic feel, so I prefer using only one color. However, the original keycaps let light through, so it illuminates when you work in a very dark room with no lights on.
#1 The keyboard is compact.
As someone who used the full layout of the keyboard before, this gave me an adjustment period to which I quickly adapted. Before buying my keyboard, I already used a smaller keyboard, however, it did not function like my Keychron. The batteries needed replacement, which added to the expenses as well as I need to reconnect it to a different device every single time I use it with a different OS.
With the smaller layout, my fingers require not travel far to finish typing or writing down whatever I need to accomplish. It reduced the amount of time I must finish work as I write faster with the smaller layout and even focus more since I love hearing the clicky sounds it produces.
On the gaming aspect, red switches turned out to be the best that I used so far. I tried blue switches, my ears bled and I got tired of listening to the loud clicky sounds after a while. Moreover, the blue switches required more effort and better suit those who have heavy hands.
On the other hand, the brown switches are mid-way for office and gaming. It gives a tantamount of click and satisfaction when you use it for typing as well as for playing. The red switches are dead quiet unless you press it too hard. But the brown switches give a little sticky feel.
#2 It consumes a little desk space.
For someone who continuously or regularly rearranges stuff, the keyboard suits my overall workspace. It does not consume much space, so I could work almost anywhere. With its Bluetooth (can be used with cable too) connectivity, it lets me work away from my desk or screens to reduce the tiring feeling for my eyes. Plus, I could easily tuck it away for safekeeping or even pack it whenever I travel (pre-pandemic, of course). It fits right into my workspace and into my desk mat which I got from Zeke Mats PH.
#3 It's hot swappable.
One of the best things about getting a hot-swappable keyboard, you can change the switches whenever you like, depending on your mood. No need for soldering!
I'm not quite a pro at keyboard customization, and this is the furthest that I've done with my keyboard. So, for the other technical aspects, I won't be able to help you there. You got to do research on your own. What I did, I joined groups and communities that welcomed newbies like me and encouraged asking and even communicating. There, I learned about switches and what suits me and my liking.
There are many switches to choose from, and some keyboard customization kits are expensive, but if you want to start out with a budget keyboard, you can try the Royal Kludge series. These are affordable and effortless to use. However, its batteries may not last like the Keychron ones.
Takeaway
Shifting from a non-mechanical keyboard to a mechanical one requires study, so you won't buy the wrong keyboard. Make sure that you read reviews and evaluate how you will use the keyboard. Check yourself once in a while if you are a strong presser or have heavy hands, then going with blue switches or black switches may be a viable option for you.
Now, whatever I said here came from my almost a year of experience using my keyboard. So far, it's good! I never encountered any major problems yet, so I'm grateful for that.
Now, what do you think? Are you going to make the switch?
---