A while back, I used to see myself buying physical copies of books and storing them well on my shelves. I took care of every single book like a treasure found on a long-lost island. My mom imprinted in my mind the importance of reading and how it will sharpen your mind and your senses. Little did I know that the naive young girl that took reading for granted would love it years into the future.
My (then) love-hate relationship with reading
Yes, you read that right!
I had a love-hate relationship with reading when I was younger. I thought of it as a boring activity that needed to be done so that I could pass my academic requirements. Every time we have those silent reading activities (SRA) in school, I'd do it so I could quickly finish and move on to the next category. Literally, I sucked the whole time because I'd usually find myself daydreaming that I was playing the piano or just playing outside.
As I write this, I realize I had ADHD back then, and I'm grateful I was diagnosed. So many realizations come to me randomly, thinking I wasn't defective back then. I was sick, my brain wasn't equipped like the other children, and I'd shine in specific subjects or fields I liked.
Nevertheless, I still pushed to finish that subject in grade school so I won't get a flunking score. I found coloring my progress fun and exciting but dreading every moment I would pick up reading material and read.
I would find it fun to read materials that I genuinely like but dread reading books that don't have illustrations.
Fast forward to now
Right now, I'm reading more non-fiction books, mainly falling under these categories:
Self-help
Psychology
Biographies or autobiographies or memoirs
Business
Graphic novels (only Trese for now)
Entertainment articles or magazines about celebrities
Sometimes I find myself reading fictional works like Star Wars, Enola Holmes, and A Song of Fire and Ice, but those are rare because I need to be hooked on something before I start reading. I watched the movie/series version of these books before I read them to manage my expectations and not get disappointed with the adaptation, whether live-action or animated.
Thinking about it makes me wonder, how did I endure researching and reading different materials for the pieces I've been working on? Surely, as a content specialist, I'm exposed to different journals, articles, clippings, or even books that I refer to when I'm citing details or any specific studies.
I even wonder, up to now, how I managed to go through various empirical journals necessary to finish our college research paper (so-called thesis) while still having some ups and downs with reading.
I have finished reading 30-31 books for the year, and I'm still in awe of how I did that.
Why did I move to Kindle?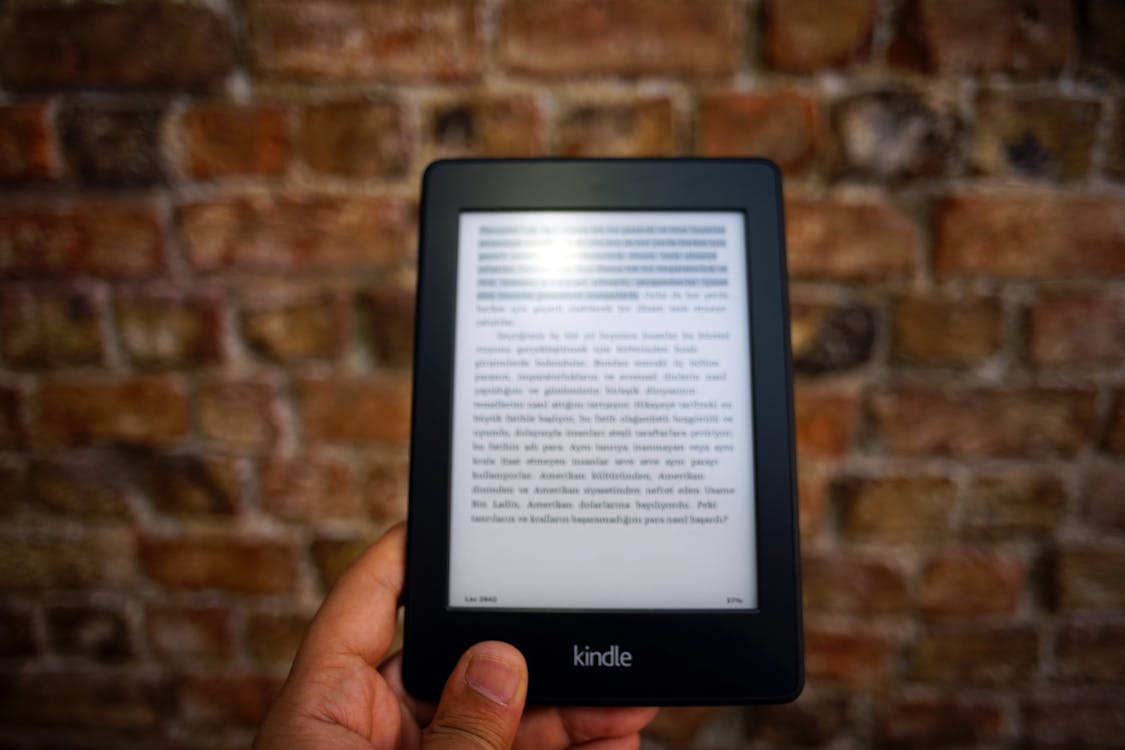 Many reasons come to mind for why I moved to Kindle. The first that comes to mind is the portability that it gives. I don't need to worry about wrapping my books carefully, removing the price tags, or even ensuring that it doesn't get creased or folded when I put them in my bag.
Another thing would be the accessibility of updating my Goodreads profile. I track my reading challenge there, and using Kindle makes it a whole lot easier!
But here are the reasons that truly helped me move or switch to Kindle.
#1 No need to worry about books getting wet or damaged
I sometimes become clumsy with food or drinks, and I hate if there is accidental damage to my books. Before the pandemic erupted, I used to bring my books wherever I went so that if I felt bored, I could easily travel to another universe or dimension to help me stay sane. Reading books in different places—like cafes, restaurants, museums, and other places- was a pleasure.
Plus, the pleasure of visiting bookstores made me feel like a kid running around toy stores on a quest to find the next holy grail. The smell of books gave me the energy to stay in bookstores for as long as I could before someone told me it was time to go. Also, flipping through the pages gave that satisfactory feeling that you could connect with the publishers and even the authors who wrote those masterpieces.
However, when the pandemic erupted, I could not go anywhere nor wanted to get out of my bubble. I wanted to stay safe, yet ordering books online has pros and cons. On the plus side, it's delivered right to your doorstep, but on the other hand, that book may have some damages you'll see when you unpack it.
#2 Books are more accessible
This is another important reason for me. When I still bought physical copies of books, there were times that I'd encounter long waiting periods for a copy. The wait would bore me to death and make me anxious that I might not get a copy even though I've been waiting for more than a month or a year!
I remember one instance when I was looking for a specific book but ended up frustrated because it was almost always out of stock. It's like, "How tf do these people get those copies in an instant?" I kept wondering until I searched for some bookworm friends that they made the shift to Kindle.
That enlightened and enticed me more to get one myself!
#3 It's easier to read and finish your reading challenge or goals
As someone who didn't read much during my younger years, reading through Kindle helped me read more. I also learned new words that expanded my vocabulary. Not only it helped me learn more words, but it also helped me construct sentences or content that helped with my work.
Connecting my Kindle to my Goodreads profile helped me monitor my reading progress and challenge. Previously, I would only put in 10 books as my reading goal for the year. But now, I'm targeting to read more books. For 2023, I aim to read 35 books! I exceeded my reading goal of 30 books last year by 2 books, so I figured, why not increase my reading goal for this year?
Besides easily monitoring my reading progress, it also helps me discover books I may like and see recommendations from my friends and the authors I follow.
Currently, here are my book genres:
Fiction

Mystery novels
Poetry (Lang Leav, Yung Pueblo, Rupi Kaur, etc.)
Graphic novels
Comic books
Non-fiction

Business
Self-help
Psychology
True crime
Biographies or Memoirs
So, what happened to my paperbacks?
Since I've collected many books, I have donated them to different institutions. I gave some of my books to school libraries like Washington International School (WIS), led by my best friend. Some of my books were gifted to my nieces, who love to read. Other books were sold, like my law books.
I still have some physical copies, but these are limited to Trese books and other local publications that don't have ebook versions yet. It is also my way of supporting local writers and publishers. But, I've been limiting my paperback purchases to save and also to save space in the condo. I realized not long ago that keeping physical copies of books takes up space, and if I don't read them, these books gather dust and become a breeding ground for unwanted insects.
Side note:
I re-read my Trese books while I wait for the next season of the animated series. Honestly, I first discovered the Trese books through the Netflix series, and I've been a fan ever since. I'm patiently waiting for the next season and also the next books.
As a Filipino, I encourage the other Filipinos to support our writers and designers.
Takeaway
In a nutshell, Kindle readers help many people to read while on the go. Most of us may not have the time to read as we need to commute or travel to our workplace. Owning a Kindle will give you a chance to ignite that love for reading and also widen your vocabulary. Learning new words is fun even if we're no longer in school. Plus, the lessons we pick up from the books help us navigate in life also.
So, are you convinced to move to Kindle?
---
---