Welcome back to another insightful discussion! Today, we're diving into a topic that's particularly close to my heart: ADHD-friendly planning. As someone who understands the unique challenges of living with ADHD, I'm always on the lookout for tools and strategies that can help us navigate our day-to-day tasks more efficiently. And that's where Reclaim AI comes in.
Reclaim AI is a revolutionary tool that's transforming the way we manage our time and tasks. It's designed to adapt to our individual needs and work styles, making it a game-changer for those of us with ADHD. But how exactly does it help with ADHD-friendly planning? And how can we maximize its features to boost our productivity? That's what we're going to explore in this post.
So, whether you're someone living with ADHD, a loved one, or a professional seeking to understand and support those with ADHD better, this post is for you. Let's dive in and discover how we can reclaim our time and productivity with Reclaim AI.
Disclaimer: This is not a sponsored post. I'm sharing my most honest thoughts about this app that I really find helpful and useful.
The Challenges of ADHD in Planning and Organization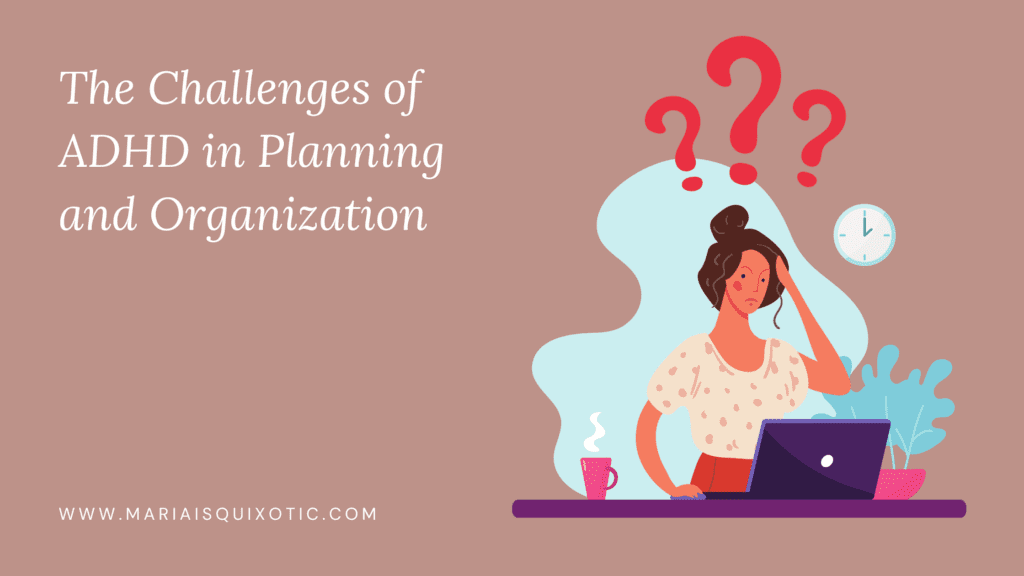 Living with ADHD often means grappling with challenges in planning and organization. The symptoms of ADHD, such as difficulty focusing, impulsivity, and forgetfulness, can make managing tasks and time a daunting task. But, with the right tools and strategies, these challenges can be effectively managed.
Reclaim AI: A Tool for ADHD-friendly Planning
Enter Reclaim AI, a smart planner designed to help individuals better manage their time and tasks. With its AI-powered scheduling tool, Reclaim AI offers a solution that caters to the unique needs of individuals with ADHD, making planning and organization less of a struggle and more of a seamless process.
Understanding ADHD-friendly Planning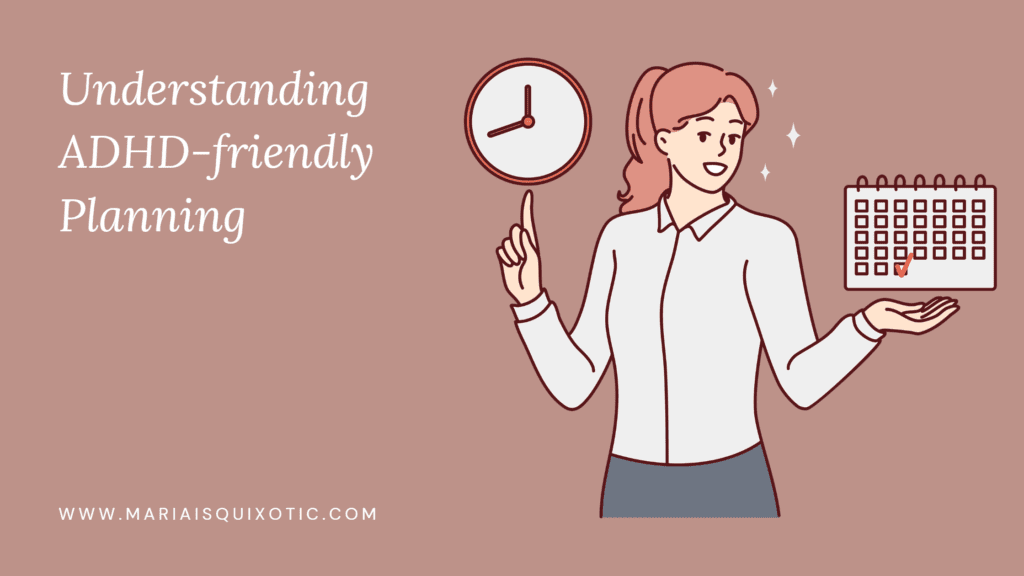 Key Principles of Effective Planning with ADHD
Effective planning with ADHD typically involves strategies that accommodate the unique ways in which individuals with ADHD process information and manage tasks. This includes breaking down tasks into manageable chunks, using visual aids for planning, and incorporating flexibility into the planning process to accommodate the variable attention spans and energy levels associated with ADHD.
The Importance of Flexibility and Adaptability
Flexibility and adaptability are crucial in ADHD-friendly planning. Given the variable nature of ADHD symptoms, having a rigid plan can often lead to frustration and decreased productivity. A plan that allows for adjustments and adaptations can help individuals with ADHD better manage their tasks and time.
Introducing Reclaim AI
What is Reclaim AI?
Reclaim AI is an AI-powered scheduling tool designed to help individuals better manage their time and tasks. It integrates with your existing calendars and automatically schedules tasks based on your preferences and availability, making it a powerful tool for ADHD-friendly planning.
How Reclaim AI Supports ADHD-friendly Planning?
Reclaim AI caters to the needs of individuals with ADHD by providing features that support effective planning and time management. It allows for flexibility in scheduling, provides visual aids for planning, and uses AI to adapt to your unique work patterns and preferences.
Tips for ADHD-friendly Planning with Reclaim AI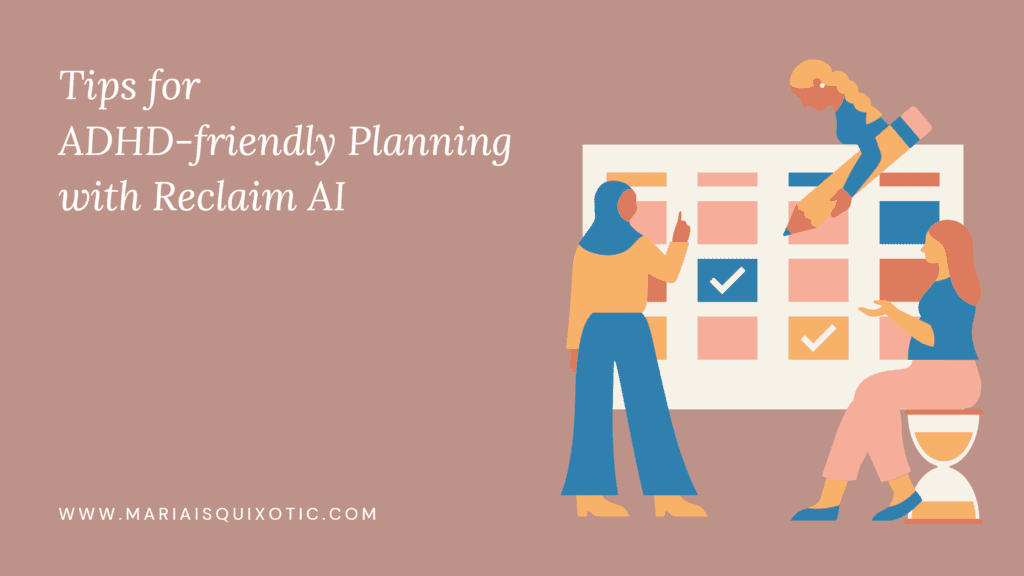 A Step-by-Step Guide to Using Reclaim AI
Set Up Your Account: Sign up for a Reclaim AI account and integrate it with your existing calendars.
Input Your Tasks: Enter your tasks into Reclaim AI. You can specify the duration, priority, and deadline for each task.
Let Reclaim AI Schedule Your Tasks: Reclaim AI will automatically schedule your tasks based on your availability and preferences.
Adjust as Needed: You can easily adjust your schedule as needed. Reclaim AI will adapt and reschedule your tasks accordingly.
Highlighting Reclaim AI Features for ADHD-friendly Planning
Reclaim AI offers several features that support ADHD-friendly planning.
Its smart scheduling feature allows for flexibility and adaptability in planning, while its visual aids help individuals with ADHD better visualize their schedule and tasks.
Additionally, its integration with existing calendars ensures that all your tasks are in one place, making planning and organization easier and more efficient.
It helps you build habits that may have been so hard.
You get to breakdown big tasks into smaller bits, and pace yourself without feeling burnt out or stressed.
Personal Experiences with Reclaim AI
Before, I would use other tools to serve as my digital planner. I enjoyed it at first, but I felt burnt out because I have to edit my templates regularly. Eventually, I left those tools when I discovered Reclaim AI. It started out as an integration in my work calendar.
But as I go along through weeks of using it, I realized that it really helps me stick to my habits, and I even get reminded to drink my meds on time!
One sad thing about this tool is that, it doesn't have a mobile app yet. So, I created a shortcut on my mobile browser, so I can check how my day or week looks like. If anyone from the team can read this (I hope you do), I hope you create an app for Android and iOS users because your platform is really helpful!
Plus, another thing I like about it is that you can make your calendar look visually appealing, color code your habits, errands, and tasks. So, when you look at it, you'll quickly know what you need to prioritize for the day.
Additional Tips and Strategies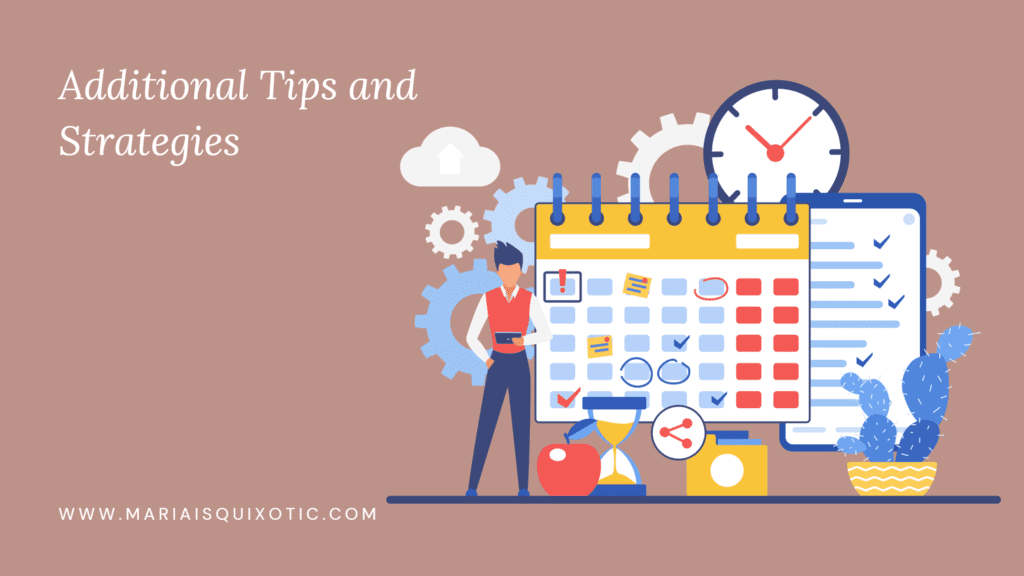 Maximizing Efficiency with Reclaim AI
While Reclaim AI is a powerful tool for ADHD-friendly planning, it's also important to complement it with other strategies for managing ADHD symptoms.
This could include regular exercise, a healthy diet, adequate sleep, and mindfulness practices. These strategies can help improve focus, energy levels, and overall well-being, further enhancing your productivity.
The Importance of Self-Care and Stress Management
In addition to using tools like Reclaim AI, it's also crucial to prioritize self-care and stress management. Living with ADHD can often be stressful, and high-stress levels can exacerbate ADHD symptoms.
Regular self-care practices and stress management techniques can help manage these symptoms and improve overall well-being.
Takeaway
We've explored the challenges of planning and organization for individuals with ADHD and how Reclaim AI can help address these challenges. With its smart planner and AI-powered scheduling tool, Reclaim AI offers a solution that caters to the unique needs of individuals with ADHD, making planning and organization more manageable and efficient.
I encourage you to explore Reclaim AI and see how it can enhance your productivity and time management.
Remember, living with ADHD doesn't mean you can't be productive and organized. With the right tools and strategies, you can effectively manage your tasks and time, and Reclaim AI is a great place to start.
---