In the ever-evolving landscape of digital marketing, strategies for building authority are more crucial than ever. This blog aims to guide you through the journey from being a content marketer to a thought leader in your industry.
We'll explore what thought leadership means, why it's essential for building authority in content marketing, and the strategies you can employ to get there.
What is Thought Leadership?
Thought leadership is not just about being an expert, but about being the go-to person in your field for insights, advice, and solutions. It's about contributing valuable perspectives that help shape your industry.
Importance of Building Authority in Content Marketing
Building authority is essential for gaining trust, driving engagement, and ultimately, achieving business goals. When you're seen as an authority, your content gets more visibility, and your insights become more impactful.
We'll delve into various strategies, including content creation, networking, and public speaking engagements, to help you build authority and transition into a thought leader.
Content Creation Excellence
Content is king, but not all content is created equal. Let's look at how you can produce content that not only engages, but also establishes you as an authority in your field.
A. How to Produce High-Quality, Valuable Content?
Identify Your Audience's Pain Points: Understanding your audience's needs is the first step in creating content that solves their problems.
Research and Planning: Invest time in researching topics that align with your expertise and your audience's interests.
Quality Over Quantity: Focus on creating in-depth, well-researched articles rather than churning out content for it.
B. Establishing Expertise in a Niche
Choose a niche where you can offer unique insights. Specializing in a particular area will make you stand out and attract a more targeted audience.
C. Consistency and Content Distribution
Consistency is key. Regularly publish high-quality content and distribute it across various platforms to reach a wider audience.
Networking and Collaboration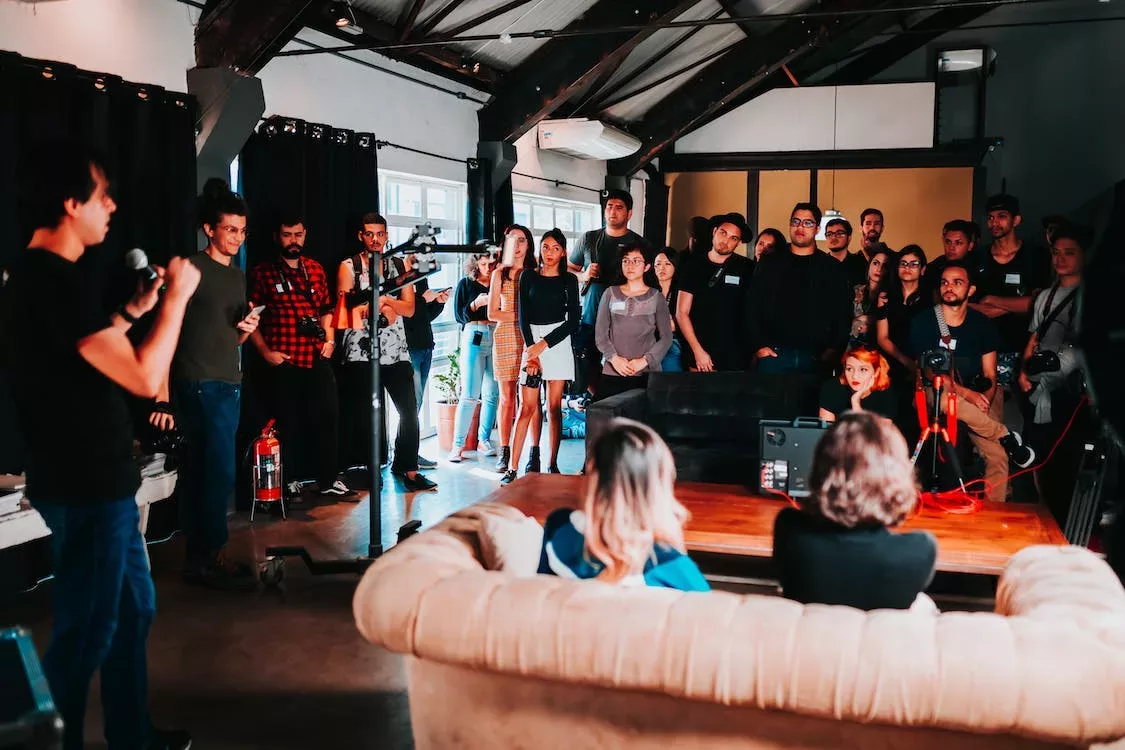 Building authority is not a solo endeavor. Networking and collaboration are vital for expanding your reach and influence.
A. Building Relationships with Industry Experts
Connect with other professionals in your field through social media, industry events, or even cold emailing. A strong network can open doors for collaborative opportunities.
B. Collaborative Content Projects
Partner with other thought leaders for webinars, podcasts, or co-authored articles. This broadens your reach and adds credibility to your name.
C. Leveraging Social Networks and Platforms
Utilize platforms like LinkedIn, Twitter, and industry-specific forums to share your content and engage with your community.
Speaking Engagements and Webinars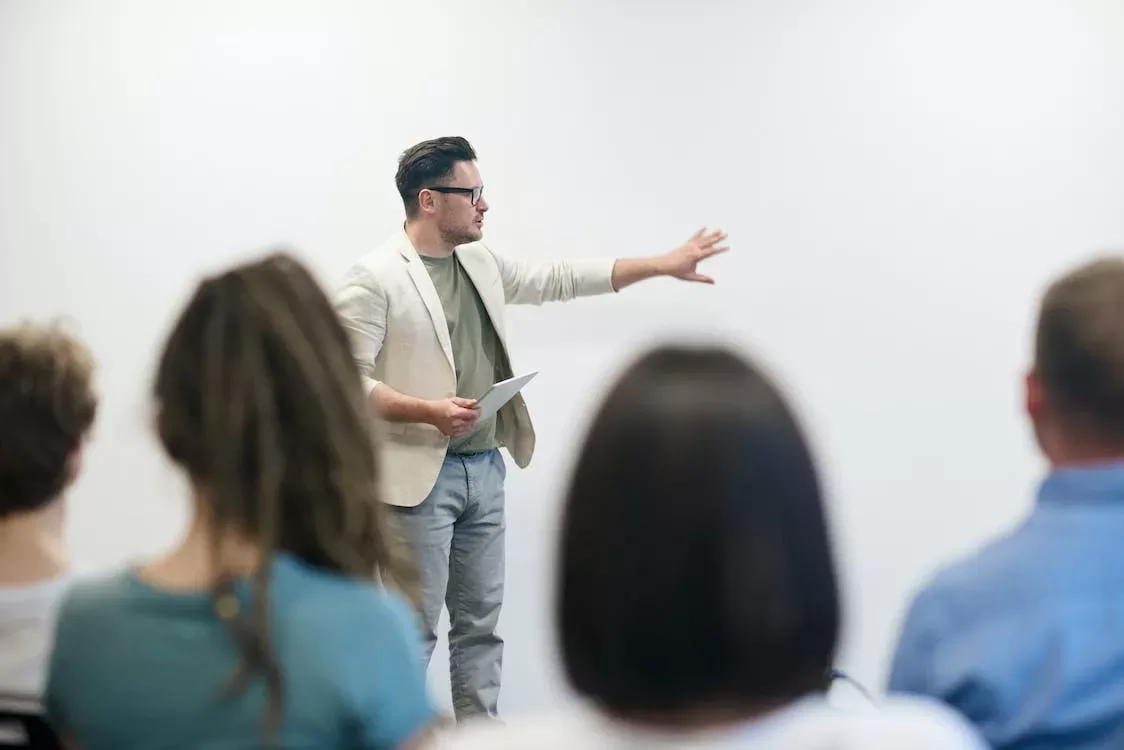 Public speaking is a powerful tool for establishing authority. Here's how you can leverage it.
A. Opportunities for Public Speaking
Look for industry events, webinars, or podcasts where you can share your expertise. Start small if you're new to public speaking.
B. Hosting Webinars and Workshops
Webinars and workshops allow you to interact with your audience in real-time, providing immediate value and building stronger relationships.
C. Sharing Knowledge with a Wider Audience
Use platforms like YouTube or Medium to share your presentations or articles, reaching people who couldn't attend your live events.
Writing a Book or Authoring White papers
Publishing authoritative works like books or white papers can be a game-changer in your journey to becoming a thought leader. Let's explore how these long-form contents can elevate your authority and how to go about creating them.
A. Benefits of Publishing Authoritative Works
Establishes Credibility: Writing a book or white paper on a subject you are passionate about instantly boosts your credibility. It indicates that you have in-depth knowledge worth sharing.
Long-lasting Impact: Unlike blog posts or social media updates, books and white papers have a more extended shelf life and can continue to build your authority over time.
Networking Opportunities: Being a published author opens doors to speaking engagements, interviews, and other networking opportunities.
B. Tips for Writing and Publishing
Choose a Relevant Topic: Pick a subject that aligns with your expertise and interests your target audience.
Research Thoroughly: Invest time in research to ensure your work is factual and up-to-date.
Plan and Outline: Create a detailed outline to guide your writing process.
Write and Edit: Write your draft and make sure to revise multiple times for quality.
Publish and Promote: Choose the right platform for publishing and invest in marketing your work.
C. Showcasing Expertise Through Long-Form Content
Long-form content like books and whitepapers allow you to delve deep into topics, providing valuable insights that short articles or posts can't offer.
Online and Offline Branding
Branding isn't just about logos and taglines; it's about the impression you leave on people. Here's how you can build a consistent brand both online and offline.
A. Personal Branding Strategies
Define Your Unique Value Proposition: What sets you apart from others in your field? Define it clearly.
Be Authentic: Authenticity builds trust, so be yourself both online and offline.
Consistency is Key: Maintain a consistent image, tone, and message across all platforms.
B. Building an Online Presence
Optimize Social Media Profiles: Ensure your social media profiles reflect your personal brand.
Regular Content Updates: Keep your audience engaged with regular, valuable content.
Engage with Your Community: Respond to comments, messages, and engage in meaningful conversations online.
C. Networking at Industry Events
Attend industry events, webinars, and workshops to network and build relationships. Always carry business cards and be ready for impromptu elevator pitches.
Measuring and Adapting
Before we wrap up, it's crucial to understand that building authority isn't a one-time effort. It's an ongoing process that requires measurement and adaptation. Let's delve into how you can track your authority-building efforts, make necessary adjustments, and learn from those who've successfully done it.
A. Tracking Authority-Building Efforts
Use Analytics Tools: Utilize analytics tools to measure the reach and engagement of your content. This will help you understand what's resonating with your audience.
Customer Feedback: Regularly solicit feedback from your audience and clients to gauge the effectiveness of your thought leadership strategies.
ROI Metrics: Look at the return on investment (ROI) of your efforts. Are you gaining new clients or partnerships because of your thought leadership?
B. Making Adjustments for Improvement
Content Re-evaluation: If certain topics or formats aren't gaining traction, consider pivoting.
Engage with the Audience: Use surveys or social media polls to ask your audience what they are eager to learn about.
Expert Tips: Don't be afraid to go back to the drawing board. Thought leadership is about continuous learning and adaptation.
C. Case Studies of Successful Thought Leaders
To understand the effectiveness of various strategies for building authority, let's look at some real-world case studies:
Neil Patel's Thought-Leadership Strategy: Neil Patel, a digital marketing expert, has built a strong personal brand through consistent content creation and active social media engagement. His thought leadership has garnered him a large following and helped him co-found a successful digital marketing agency, Neil Patel Digital.
HubSpot's Thought-Leadership Strategy: HubSpot focuses on providing educational content around inbound marketing. They use analytics to measure content success and have a team of experts contributing to their content. This has established them as a leading authority in the marketing industry.
Elon Musk's Thought-Leadership Strategy: Elon Musk shares his vision openly through social media and other platforms. Despite facing criticism and setbacks, his focus on innovation and creating buzz around his projects has made him a successful thought leader.
Bill Gates' Thought-Leadership Strategy: Bill Gates utilizes various platforms, including his annual letter through the Bill and Melinda Gates Foundation, to share insights on global issues. His strategy involves inspiring others to act, thereby establishing himself as a thought leader.
These case studies demonstrate that there's no one-size-fits-all approach to becoming a thought leader. It requires consistent effort, a willingness to adapt, and a strategy that aligns with your brand and audience.
Conclusion
As we come to the end of this comprehensive guide, it's important to remember that the journey from content marketer to thought leader is a marathon, not a sprint.
Let's recap the key strategies we've discussed and look at how you can continue to build your authority in your chosen field.
A. Recap of Key Strategies
Content Creation Excellence: Consistently produce high-quality, valuable content that establishes your expertise in a niche.
Networking and Collaboration: Build relationships with industry experts and engage in collaborative content projects.
Speaking Engagements and Webinars: Use public speaking opportunities to share your knowledge with a wider audience.
Writing a Book or Authoring White papers: Publish authoritative works to showcase your expertise.
Online and Offline Branding: Develop a strong personal brand both online and offline.
Measuring and Adapting: Continuously track your efforts and make adjustments as needed.
B. Encouragement for Aspiring Thought Leaders
If you're just starting out on this journey, it's natural to feel overwhelmed. But remember, every thought leader started somewhere. The key is to take that first step.
Whether it's writing your first blog post, reaching out for your first collaboration, or speaking at your first event—just start. Your unique voice and perspective are needed, and the world is waiting to hear from you.
C. The Ongoing Journey of Building Authority
Building authority is an ongoing process that doesn't end once you've achieved a certain level of recognition. The landscape is continually changing, and staying relevant means continually updating your knowledge and adapting your strategies for building authority.
Keep learning, keep growing, and most importantly, keep sharing your insights and expertise.
Final Thoughts
The path to becoming a thought leader is filled with challenges and opportunities alike. But with the right strategies for building authority, a willingness to adapt, and a commitment to providing value, you can make a lasting impact in your field.
So, what are you waiting for? Your journey starts now.
---
---