Working remotely paved the way for us to save up on money and time from commuting to and fro the office. However, it also took away the chance to remain fashionable and fabulous. So, how do you work comfortably from home and still stay fashionable?
How to work comfortably from home?
Remote work gave me the chance to continue working from the comfort of my home while being with Dakila 24/7. It made me more creative, especially in creating a productive workspace that will be my headquarters before we go back to the office at full capacity. Consequently, it helped me to think about how to spice up my lounge clothes into work clothes. Thankfully, I found Femme Luxe Finery.
Wear women's loungewear sets
Whenever I wear women's loungewear sets, I feel more comfortable while I work from home. I easily move around to tend to some chores. It doesn't restrain me from moving since it fits just right. Loungewear sets give you the best look while working from home and joining in virtual meetings that require cameras.
What I love about Femme Luxe Finery loungewear sets is that it lets me switch from working to resting at home. I can easily run errands such as groceries because it gives me mobility. Plus, you can easily style it!
With this chocolate loungewear set, I just style it with a shoulder bag and sandals and I'm good to go! So, are you ready for a laid-back look while still being productive?
Little black dress
One of the most classic looks that you'll find that shows elegance and comfort, is a little black dress. This kind of clothing boosts your confidence and makes you look professional in any work that you do. One of my favorite pieces from their collection is this black long sleeve oversized crew neck mini jumper dress. Not only does it let me move around comfortably, but it also gives me a confidence boost.
Back in the day, I struggled with loving myself. I used to look at myself as someone who was sluggish, unproductive, and even not fashionable. However, when I started wearing their clothes, I loved myself more. I knew that I can overcome anything that life throws at me.
Ripped jeans
No one goes wrong with a good pair of jeans! From the classic straight-cut jeans to flare jeans to high-waisted jeans, they all have it. A pair of jeans also lets you move comfortably while still looking stylish even when working from the comfort of your home. So, get yourself a good pair of ripped jeans and work comfortably from home while doing your errands.
Bodysuit
I discovered bodysuits a bit late, and I say, these clothes are so comfortable to be in! Not only does it provide me with comfort, but it also protects me from the harsh sunrays and the chilly weather. What else do I love about this ribbed pink bodysuit?
Get out of your large shirts and boxers and look sophisticated and classy at your next meeting with a bodysuit. You can easily pair it with your jeans, shorts, or pants while staying at home and working remotely. When the colder season arrives, you easily pair this piece with a long-sleeve turtleneck or even with a sweater that warms you up.
In case you plan on heading out for a date, you'll never go wrong with a bodysuit paired with a skirt or a straight-cut pair of jeans and a pair of sandals.
Cold shoulder knit jumper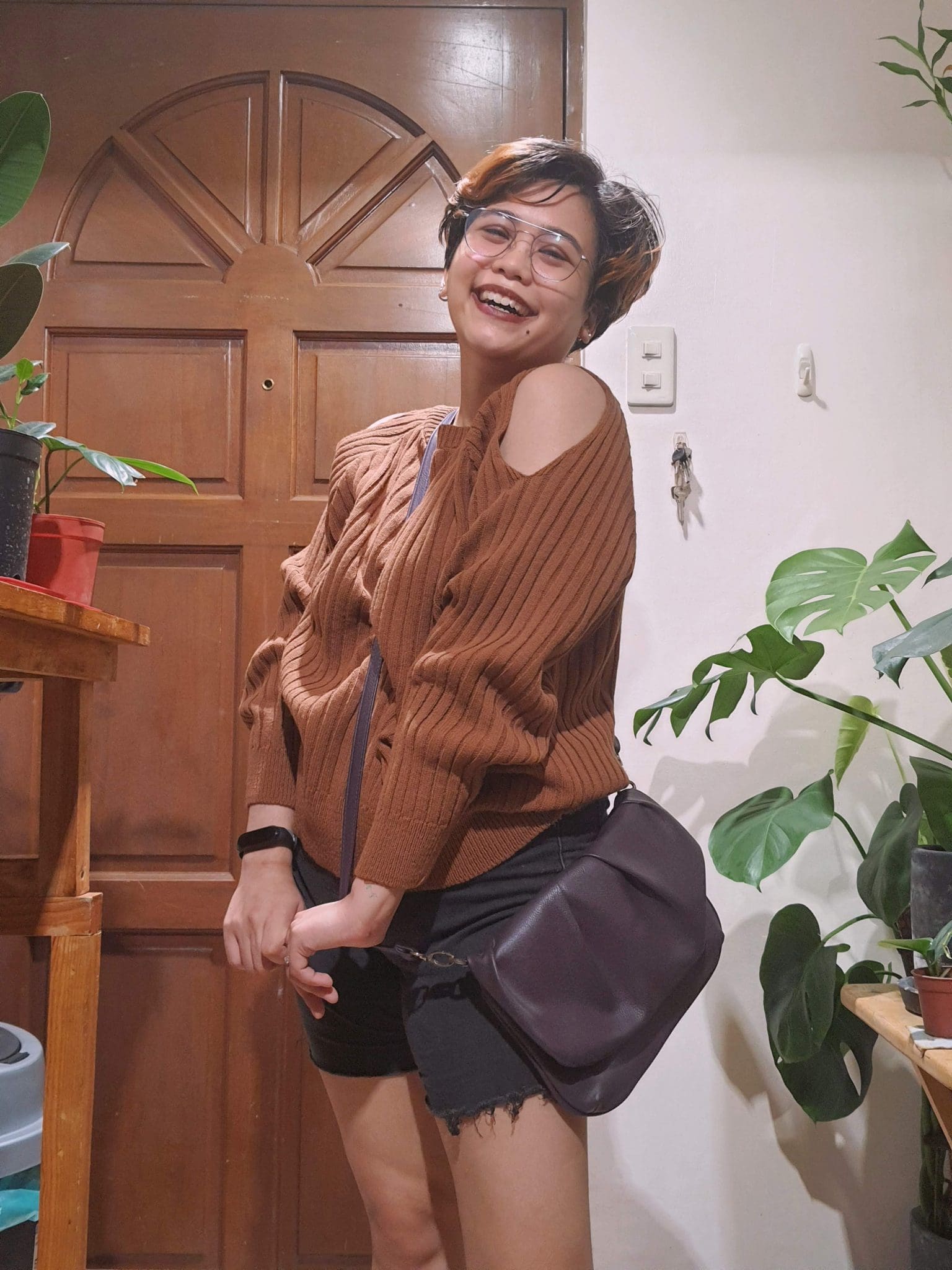 One of my favorite tops from Femme Luxe Finery is this chocolate cold shoulder knit jumper. With its unique cut-out shoulder design, I'm ready to conquer the cold and rainy days ahead. Wherever I may work in my flat, I always choose to stay stylish, fabulous, and camera-ready for any meetings ahead.
I pair this top with shorts, leggings, jeans, or even with a pair of biker shorts.
Nevertheless,
You decide on how to work comfortably while working from home. Choose which clothes make you feel good about yourself. Remember, don't pay attention to those who bring your spirits down. It took me a while before I loved myself and gained my self-confidence back.
Fashion is your friend and not your enemy.
I definitely have body issues, but everybody does. When you come to the realization that everybody does that—even the people that I consider flawless—then you can start to live with the way you are.

Taylor Swift
---