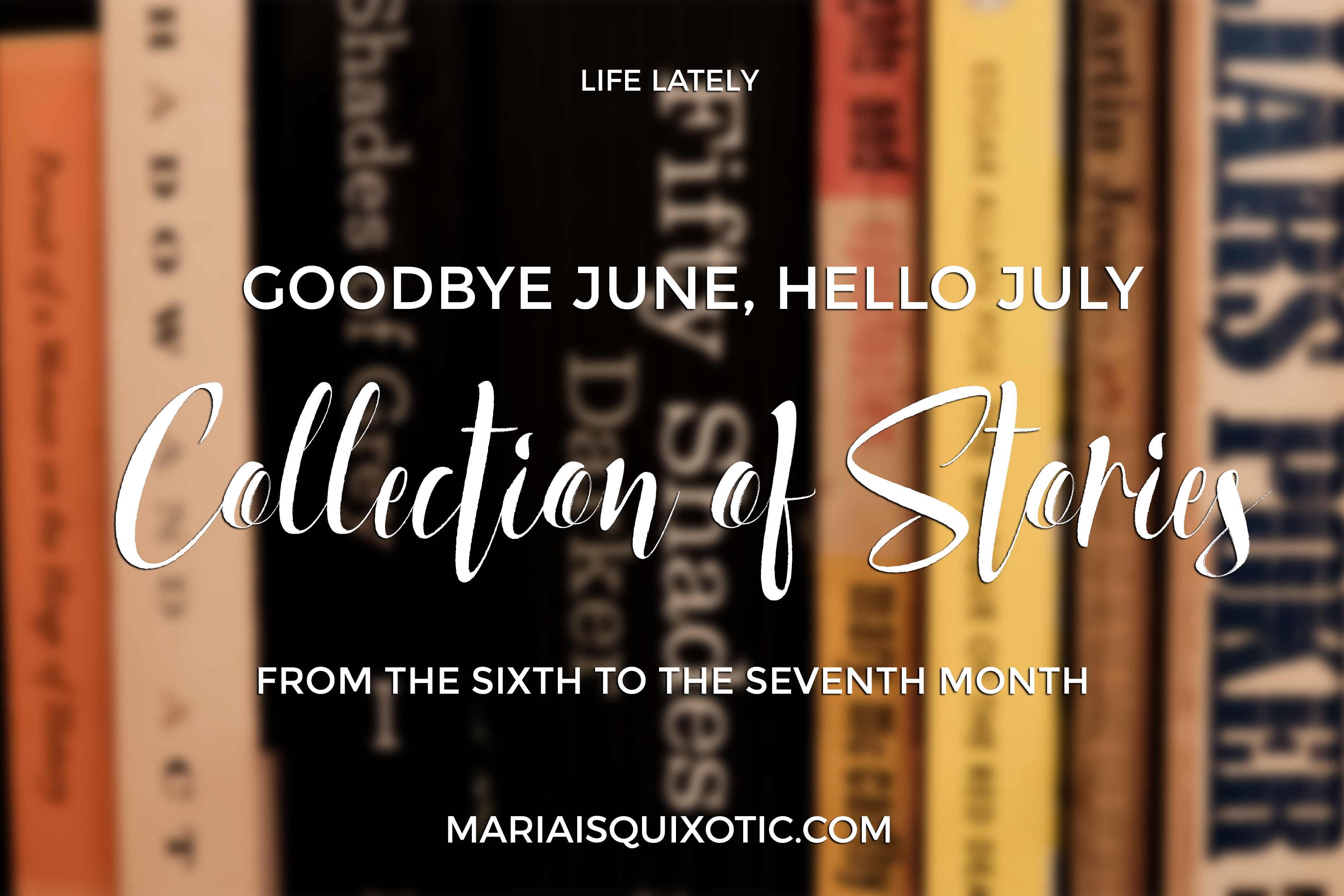 My last Life Lately post was about a roller coaster feeling about mid-year. Now, it's July. Here are some stories about how life has been after my last Life Lately post.
Goodbye June, Hello July: Collection of Stories
My last Life Lately post was truly and deeply a personal one. It highlighted mostly what I have been feeling for the past few months. Now, I have optimism back at my side again and I want to share stories of how the past weeks have been for me.
Now, here are some of my pleasant memories for the past few weeks.
Coping Up
Last post, I shared about being a self-identified depressed or anxious person. It was hard because it has been quite a while since I admitted something to myself. At first, I thought the people close to me would reject me for feeling like or just merely being like this. It was terribly hard to open up because they may not understand how things are.
Some would usually see me as that perky and bubbly person. Yet, that's only the exterior. They haven't seen how shattered I could be from within. I also shared that I am using an app called Paralign that would help me vent out my inner thoughts. The ones I could not tweet about nor post on my social accounts.
Moreover, I have been doing better with how I am. I've told my mom about it and she's been supporting me ever since. My boyfriend also told me that I will be able to conquer these and cope up with everything that may be pulling be down. Another thing that helps me is calligraphy.
Finding Maria
In life we may feel lost some times. We struggle to find the right path to reach our goals and aspirations. I shared that I felt lost about life.
Now, I'm happy with the progress that I have been making. It's a slow process of getting better and well but it's worth it. Hey, small progress is better than no progress at all. Right?
So if you feel a little lost in life, just take a break. Inhale, exhale. Then rethink of your dreams, goals and aspirations. From there, you'll eventually figure it out. For some it may take a while, but it always depends on the person. You are different from me. We are all unique beings.
But know this, in case you'd want someone to consult about something or just mainly talk, converse with your friends, family or someone you trust. It helps. Yet in case, it's also helpful to find people who share the same feeling as you do. From there, you'd be able to see how things are from their perspective. Eventually, this could guide you to finding your own path.
We all have our own Neverland. It may not be the same as Peter's but it's always a star out there in the universe.
Murdered Bag at MAFBEX
If you follow my blog's Facebook page, you'll be able to see my post about my murdered bag.
What hurts the most is that the bag was a gift from my mom. It had so many sentimental memories already even if this bag and I got together for a little over a year. But, I'm happier that my mom and I are safe and no harm ever reached us while being there at MAFBEX.
The whole story is on the Facebook post. 🙂
Arts Market at Pineapple Lab
Last June 24, we participated in the Arts Market conducted at the Pineapple Lab. We got to meet so many artists that have different niches. This is the first time we participated in an art market in Metro Manila. For me, it made me feel both excited and anxious at the same time.
Thank you for my mom and to Sam who told me to just calm down. Also for reminding me to have fun and just breathe.
I'm proud to say that we were able to showcase our products. It ranged from postcards, custom-designed journals (A5 and A6 sizes), stickers. Also, I was able to finally start selling the Endure shirts.
More will be shared about the Arts Market at Pineapple Lab on my other blog.
Endure Shirts
Honestly, this is a personal project. One that is very close to my heart.
When the news about Marawi broke out, my heart felt sad. It affected my whole being. I mean, when I started my post-grad studies, that was the time that I began getting acquainted with Muslim people. Personally, I am curious about their culture. Their discipline is way amazing than others out there.
I have a friend who's from Marawi City and really devastated with what has been happening in their city. Help was what they truly needed. It got me thinking on what if we sell something to raise funds to be donated to the refugees. I know it will not be as grand as the other fundraising activities out there but at least I get to help. Right?
So, I tried connecting with fellow artists and designers for a shirt design. Some gave favorable response but due to their busy life, weren't able to truly commit to giving me their design.
Now, the designer behind the Endure shirt wants me to keep the identity a secret. It's his/her way of creating a mystery.
We started selling during the Arts Market. Available sizes then were S, M, L and XL; being sold at Php 300 ($ 5.95).
Currently, the sizes available are M, L and XL. If you want to have your own shirt, you may contact me or send me an email.
Work + Going Home
After how many months, I'm finally going home for a break! I personally have been delaying this trip since I have work.
Delaying because the work I have really requires strong and stable internet connection. Previously, I have freelance work but eventually lost it since I went home during the Holy Week and was not able to do the tasks assigned. Sad, right?
Now, I just celebrated my first month weeks back and I'm happy with my employer and with the tasks being assigned to me. Not only that I'm able to learn but also apply it with my side hustles. Beforehand, I have been reiterating to my mom to have our connection checked since it would be a waste if I won't be able to work properly.
Honestly, I'm quite excited to go home and be with my dogs!
---
How has your life been?